Cleaning and Restoration Services in London
What Can We Restore?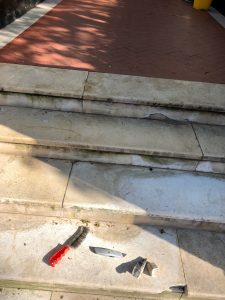 In short, anything!
With our years of experience, our trained team are able to restore and repair any stone surface to a high quality.
We can restore your stone flooring, as well as walls, showers, stairs, fireplaces – anything! Whether in your home or a commercial property, we can help you revamp your tired looking or damaged stonework and leave you in awe of your restored stonework.
Want to prevent any future damage from occurring to your natural stone tiles? We can help there to. We offer advice on how to care for and maintain your stonework, so it won't require any more work for as long as possible.
Cleaning – Interior and Exterior
Along with restoration, we also clean all kind of natural stones, tiles, grout and terrazzo. With traditional wear, tiny holes form in stone, trapping dirt, grime, grease and spills. This can reduce the appearance of the stone surface.
We provide an interior and exterior cleaning service to remove any dirt or other substances trapped on the surface of the stone while also using a sealant post clean to prevent reoccurrence.
We also provide you with tips on how to clean your stone surface and can advise on use of sealants and polishes to keep them looking at their best.
Sealing and Protecting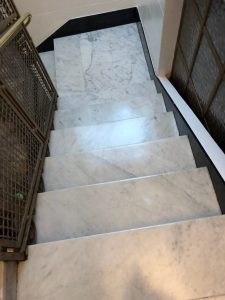 If you have a marble lobby in your place of business, such as a retail store entrance, then you are no doubt aware of how dirty natural stone can look at the end of a busy day.
No to worry, we provide a sealing and protection service. The sealant fills the micro holes in the stone to stop any unwanted substances from penetrating. This not only improves the look of the stone but also makes it significantly easier to clean.
When it comes to natural stone restoration, we know how important it is to our customers to be left with a high-quality finish that looks as good as new. We want you to feel happy with our work and use the highest quality products and tools to restore your stone surfaces.
We pride ourselves on being professional and reliable with very competitive prices. Unlike other stone restoration companies, we will not charge you for our advice on keeping your stonework looking at its best and provide post restoration after care tips.
Whether you want to restore the natural stone surfaces in your home or place of business, we can help.  Our high level of restoration expertise combined with the very best materials to repair your surfaces as seamlessly as possible will leave you speechless at the results we provide.
Installing Your New Stone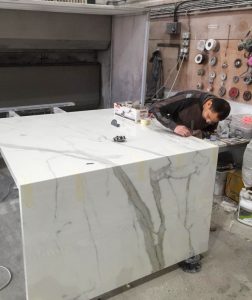 At MK Marble, we know how to install the highest quality stone fixtures to enhance your floor, work surfaces or bathroom. We have a wide range of natural stones available to complement any design in a wide variety of colours, hues and natural patterns.
Our professional installers will come to your home or place of work and conduct an assessment of your floor, walls or kitchen surfaces before installation begins. This is to take measurements; assess the area you will be having installed and assessing how much work is needed to leave you with the best finish. They will discuss with you how much time they feel the task will take and the maintenance needs of your chosen stone installation along with any special measure that need to be taken to prepare the area; like ventilation and temperature. An estimate for your installation work will also be given at this time but this may be subject to change.
When your new stone surface is installed, we will be on call to help you with any maintenance or concerns you may have to help you keep your new stone surface in tip top shape and looking striking.